WordPress eCommerce Site Development and Security
Trainer's Note: This tutorial features video clips from webinar sessions on WordPress eCommerce Site Development and Security. Each video clip comes with text contents, links to relevant tools, templates, or other training materials that will help you understand each topic easily and apply the lessons learned accordingly.
Copyright Notice: Unauthorized distribution, copying, or reuse on any part of the entire contents of this tutorial is strictly prohibited. Violators will be sued for copyright violation. Existing trainees and students who also violate this copyright notice will have their access revoked permanently with no refund.
Introduction
As the digital industry continues to evolve, it is surprising to know that many companies, entrepreneurs, or even freelancers still do not have a website for online presence. If you don't have one, you are losing out on the opportunity to grow your business! On this video tutorials, TekWorx Founder and Certified E-Commerce Trainer, Bert Padilla will talk about WordPress eCommerce Site Development and Security.
Digital professionals and MSMEs should learn how to attractively portray themselves, using website as a platform to effectively market their services or products online.
Why Create an E-Commerce Website?
When people shifted from interpersonal connections to internet connections, so did the world of commerce. Philippines is currently the world's heaviest internet user, and it is now essential for MSMEs and entrepreneurs to transition to eCommerce. With the Filipino consumer's digitally-driven lifestyle, companies have to adapt to generate revenue.
As an astute entrepreneur, you should know who your target buyers are. Today, most, if not all, customers and clients are already using the internet as they look for products and services. But what if they are unaware of your business and what you can offer? Without an online presence, your product or service is easily substituted with somebody else's. Having your own website can give your customers an idea of what you have to offer, and drawing them in for more.
How to Get Started?
Choosing the right website can be confusing. It depends on a variety of factors, such as speed, cost, maintenance, and functionality. Usually, the better a website looks and user experience, the more visitors it will attract.
Essentially though, you'll need few "commodities" as you build your website: the Domain Name, the Web Hosting service, and SSL. I suggest you watch the video below for a quick overview of what exactly you'll need.
What you need to Develop a WordPress Website
Freelancers or business owners can use WordPress, which provides ease and convenience in publishing a site. WordPress isn't your typical Content Management System or CMS. Also built for E-Commerce, it's mobile-focused, easier to do SEO, and can be self-hosted that makes content management easy. It has an array of themes and plugins to expand out-of-the-box functionalities.
Naturally, there are responsibilities in maintaining a site. The question is, what are you doing to prevent from getting hacked and compromised? Included in this course, you'll also learn how to protect your website with the best security available and built based on the latest web programming technologies.
All of these things may sound a little bit geeky, technical, and foreign for you, but don't worry because as we go along with the rest of the tutorials below, you'll realize that each part is actually very easy to understand.
ACTUAL TUTORIALS: WordPress Site Development and Security
Bert's teaching approach and training methodology allow assertive and goal-oriented individuals like you to easily understand and grasp the subject. Should you have any concerns or clarification, feel free to comment below or send a message on Facebook Messenger.
Reminder: Make sure you have Active Subscription with TekWorx to see all contents below. You can also remove the Content Restrictions in place by purchasing this course here: WordPress Site Development and Security.
BONUS: Full Tutorial Video from Webinar
All tutorial clips above were taken from the E-Commerce Website Development and Security webinar session during TekWorx.Training's 1st Bootcamp on eCommerce and Digital Marketing.
You can watch the full video after the break.

If you're seeing the image below, that means the content is restricted to you.  You must be LOGGED IN to UNLOCK the content. Login here.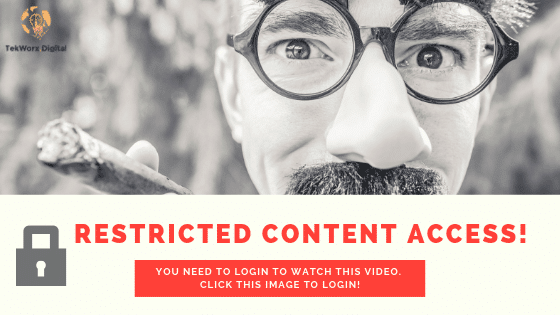 Mastermind Sessions:
The following video is from a previous Mastermind session with participants of the E-Commerce and Digital Marketing Bootcamp + Mastermind. I'm giving view-access to anyone taking this WordPress Site Development course to complement the lessons discussed above.
If you're seeing the image below, that means the content is restricted to you.  You must be LOGGED IN to UNLOCK the content. Login here.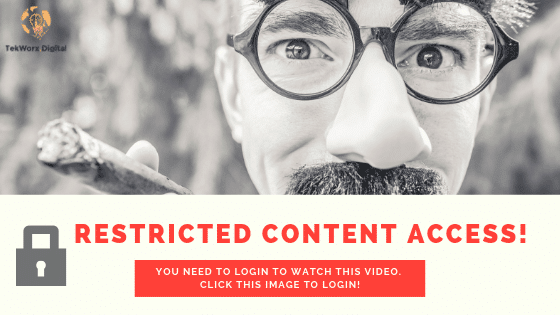 For questions and clarifications, feel free to comment below.
The Resource Person: Bert Padilla (Curriculum Vitae) is a Certified E-Commerce Trainer. He's also an online entrepreneur operating TekWorx.Digital. In 2018, he started sharing his online expertise as Trainer and Resource Person for one of the programs of the government's Department of Information and Communications Technology or DICT. Inspired to help more and more Filipinos through digital trainings, Bert launched TekWorx.Training in early 2019.